According to some sources , QAnon is a group of perhaps 10 individuals; mainly in the U.S. Military and the NSA.
[** A must read overview of Q drops ]
DOWNLOAD | A 40-page document , containing 10 essays , by Martin Geddes:"Martin Geddes on Q."
Q
Q Interpretation and Analysis
Johnny Enlow | Q Anon and the Deep State Conspiracy Theories? – "For clarity's sake here is what is going down. The greatest overhaul of power and wealth in history is about to transpire. Really bad and shady characters, and associated families, groups, commissions and agendas are in the process of being unplugged, exposed, disempowered, shut down, abolished, defunded and otherwise judged. The next generation will be the first generation in many decades if not centuries to be free from the "deep state" controllers. They were never in control anyway. They just operated unopposed in the vacuum created by an absent, irrelevant, parked-in-the-four walls, self-indulgent church. That is never going to happen again because the church is now awakening and arising and is headed for its most glorious hour."
"The "deep state" had as strategy to keep the church off 6 of the 7 mountains of society (media, economy, government, education, family, arts and entertainment) using crafty and distorted doctrine and "theology" that it introduced and funded. It was our "fake news". Premature rapture-mindedness connected to an expectation of a rising irresistible antichrist, then pieced with a Holy Spirit-less "cessationism", has done more to empower darkness than any other factor in the world. It was a demonic implant designed to keep us from being "Salt and Light" and it presently sits as much of the church's "deep state" in need of being fully unplugged, exposed, disempowered, shut down, abolished and otherwise disappeared. That too is going to happen. Yes, perhaps it is a bit of a nervy time- but you can go ahead and start the rejoicing. It's a done deal."
The Qanon Map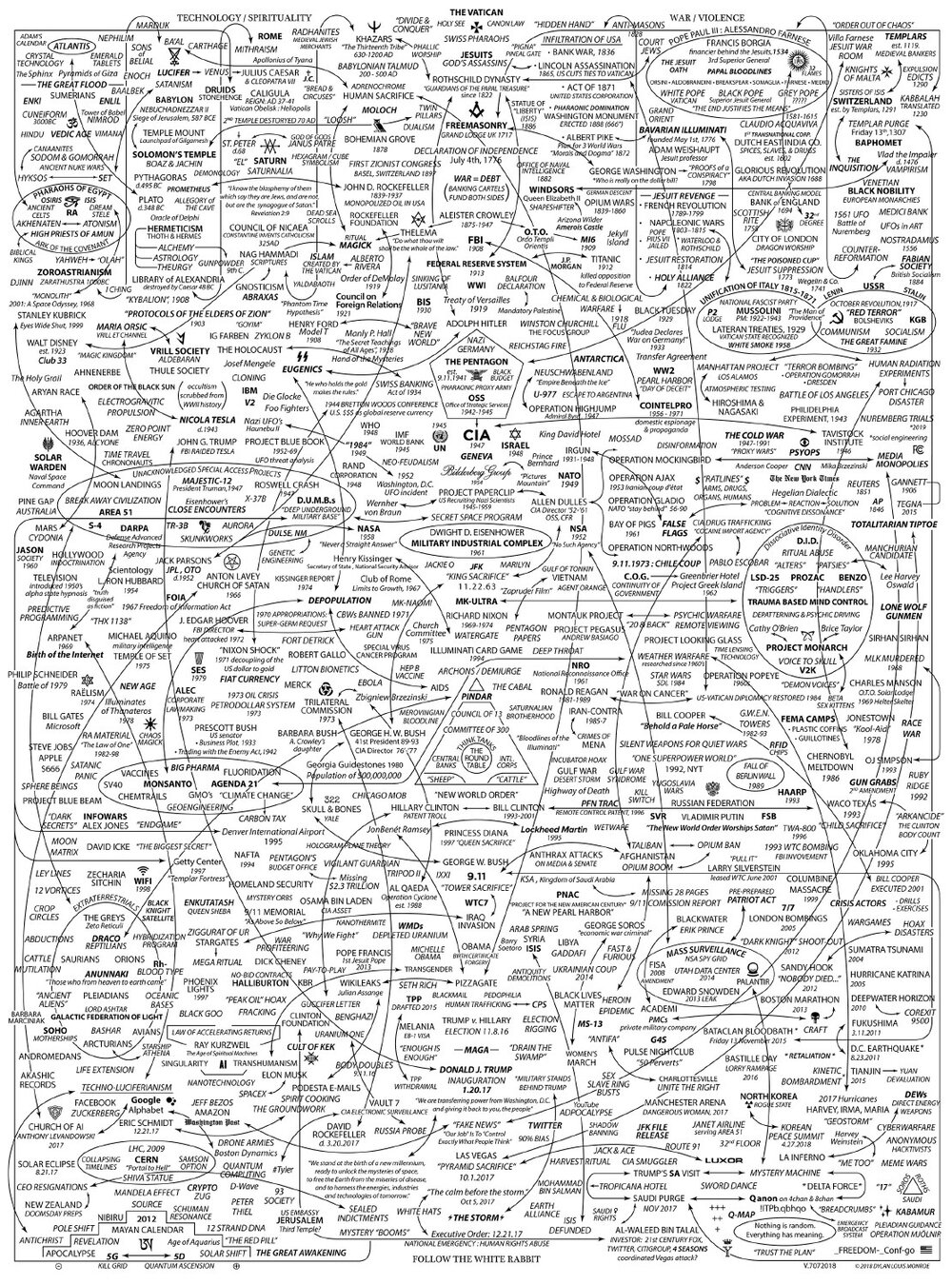 The Vault of Culture | NST #421: QAnon and Beyond (2017- )
The Deep State Mapping Project – Q Key
Additional Links
The 4 functions of Q
QAnon Creator 'Q' Returns After Nearly Two-Year Hiatus
WWG1WGA: The greatest communications event in history
WWG1WGA: Four Years Of War | Reflections on the Q project and life as a notable anon
QAnon's Pendulum: On Umberto Eco's Fiction and Right-Wing Conspiracism
Situational Assessment 2017: Trump Edition
Situational Assessment 2018: the Calm Before the Storm
Situational Assessment: Right Now
TRUMP PROPHETIC TACTICAL RESET 2021-2024
Johnny Enlow | Qanon – "An important message to intercessors, prayer leaders, pastors etc. We have entered a very decisive moment in the national scale exposure of "deep darkness" and it is now time for the intercessors, ministers- and really all believers- to totally secure the heavens in a concerted and knowing way. I want to recommend Praying Medic's You Tube video on Q matters from August 27 (since removed from YouTube – visit Praying Medic's page above) and that will give you some very credible up to date intel if you were not yet on board. If you know nothing about this, there is nothing more important than being aware of who and what Q is and joining in now. There are some very brave patriotic people risking everything to take on unimaginable darkness and it is now the spiritual eagles turn to tear down every spiritual platform of darkness being exposed. Believe me Q is not a "conspiracy theory" but an actual God ordained operation to first rescue and then prepare America and the nations for unprecedented kingdom advancement. Q's ongoing posts draw attention to where the spiritual air power needs to come in and so stay on the Q drops. Last night I saw in the spirit the most massive forces of the hosts of heaven surrounding the horrible darkness being surfaced and it was almost blinding – it made the deep darkness comparatively very small. God is going to make America great again and His global kingdom purposes are beyond a political slogan so don't get hung up on that. He is Lord of the nations and the world conspirators are about to find that out. WWG1WGA but more importantly WWG1 HE GOES WITH US. We ARE going dark to LIGHT."
Related Info:
'Satanic' Georgia Tablets Despised by Conspiracy Theorists Bombed
Georgia Guv Candidate Builds Campaign on Demolition of 'Satanic' Tablets
Georgia Guidestones EXPLOSION then DEMOLISHED – Did God have a hand in taking them down?